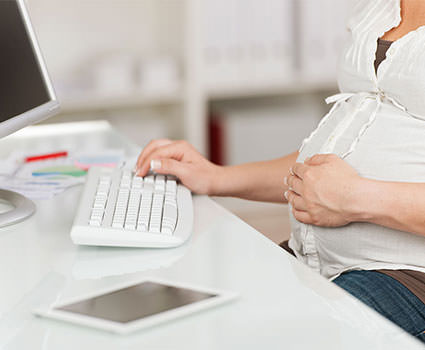 Summary of Key Maternity Rights
The law on maternity rights can appear complex and daunting.  We have drawn it all together in order to provide you with a straight-forward guide.
Please note that on 5th April 2015, the new Shared Parental Leave (SPL) regime came into effect, which allows parents to share the statutory maternity leave and pay which previously had only been available to mothers – see our separate guide to Family Friendly Rights.  However, the SPL regime is entirely voluntary and the default position remains as set out in this guide.
The Protected Period
The statutory entitlements of pregnant employees and those on maternity leave apply during the "protected period", which begins when a woman becomes pregnant and ends:
If she has the right to Ordinary Maternity Leave ("OML") and Additional Maternity Leave ("AML"), at the end of the AML period;
When she returns to work after pregnancy (if earlier); or
If she does not have that right, at the end of the period of two weeks from the end of the pregnancy.
Key Dates
It is important to establish and record a number of dates related to the pregnancy.  These are:
The Estimated Week of Childbirth ("EWC");
The Qualifying Week (which is the 15th week before the EWC);
The date the employee wishes to start maternity leave;
The date maternity leave will end.
Establishing these dates is important because:
Maternity leave can only start from the 11th week before the EWC (unless the baby is born earlier);
Any pregnancy-related absence (e.g. sick leave) from the start of the 4th week before the EWC will automatically trigger the start of OML and any SMP entitlement;
The employee needs 26 weeks' continuous service at the end of the Qualifying Week in order to qualify for Statutory Maternity Pay ("SMP");
SMP is calculated on the basis of average earnings during an 8 week period ending with the Qualifying Week;
The employer will want to arrange maternity leave cover.
Notification of Pregnancy
To qualify for OML, the employee must notify her employer of her pregnancy no later than the end of the 15th week before EWC.
She must inform them of:
the fact she is pregnant;
the EWC; and
the date when she intends her OML to start, which must be a date no earlier than the beginning of the 11th week before the EWC.
Notification need not be in writing, unless the employer requests this.  However, the employer's health and safety duties are not triggered unless notice is put in writing, so it would be advisable to do so.
Employer's Acknowledgement
Once the employer has received notice of a chosen start date for maternity leave, it has 28 days to notify her of the date on which her maternity leave will end.  This will be 52 weeks from the start date.
If the employee changes the date she wishes to begin maternity leave, or it changes due to pregnancy-related absence, the employer must notify her of the new end date within 28 days of the start of her leave.
It is advisable to put the notification in writing so as to create a paper trail, since there may be consequences if the employee claims she was not notified of the end date:
She will have protection against detriment and/or dismissal for failure to return on time if the employer gave her less than 28 days' notice of the end date, or none at all.
If she wishes to return to work early, she is not obliged to give the requisite 8 weeks' notice if her employer has not notified her of the end date within the correct timescale.
Antenatal Appointments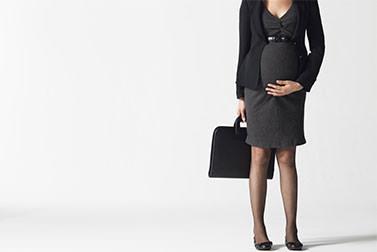 All pregnant employees have a statutory right to paid time off during working hours for the purpose of receiving antenatal care, regardless of hours worked or length of service.
With the exception of the first appointment, the employer is entitled to ask for evidence of antenatal appointments.  Once requested, the employee is not entitled to take time off until the evidence has been produced.  She must show both:
A certificate confirming that she is pregnant, such as a MAT B1; and
An appointment card or some other document showing an appointment has been made.
An employee is entitled to be paid at her normal hourly rate of pay during this period.  Overtime is only taken into account if it is compulsory and part of the normal working pattern.
An employer may refuse time off to attend an antenatal appointment where it is reasonable for them to do so.  For example:
If the employee gives short notice for a non-urgent appointment for which the employer cannot arrange cover; or
Where the employee could make arrangements to attend the appointment outside working hours.
Length of Maternity Leave
All employees must take a minimum of 2 weeks' maternity leave starting from the day they give birth (extended to 4 weeks for factory workers).  It is a criminal offence for an employer to allow an employee to work during compulsory maternity leave.
Pregnant employees are entitled to 52 weeks' maternity leave, consisting of 26 weeks of OML, followed by 26 weeks of AML.
OML and AML are available to all employees, regardless of length of service.
Statutory Maternity Pay
An employee will be entitled to SMP where she has both:
26 weeks' continuous employment with the employer up to and including the 15th week before the EWC; and
Average earnings of at least the lower earnings limit for National Insurance during the 8 week period ending with the 15th week before EWC.
SMP is payable for 39 weeks at the following rates:
The "earnings-related rate" – 90% of average earnings for the first six weeks;
The "prescribed rate" – (or earnings-related rate if lower) for the remained of the period.
If an employee is dismissed during her maternity leave, the leave will come to an end but she will continue to receive SMP for the remainder of the SMP period.  This is because SMP is not dependent on remaining an employee.
Maternity Allowance
Women who have worked and paid national insurance contributions in 26 out of the 66 weeks ending with the week before the EWC are entitled to claim a maximum of 39 weeks' maternity allowance from the Benefits Agency if:
they are employed but do not qualify for SMP; or
they have recently been employed; or
they are self-employed;
AND they earn at least £30 a week averaged over a 13 week period.
Reasonable Contact and 'Keeping in Touch' Days
To encourage effective communication between employer and employee during maternity leave, there is now explicit provision for "reasonable contact" during maternity leave.
This contact may be used to enable the employer and employee to discuss arrangements for the employee's return to work, or to keep them informed or important developments at work.  They should be informed of any promotion opportunities or vacancies which arise during maternity leave.
It would be good practice to seek the employee's view as to how much contact she would like during her leave and by what means.
A woman may work during maternity leave for up to 10 days without bringing her OML or AML to an end.  They may carry out work for the employer and may be paid for this.  The type of work and rate of pay is a matter to be agreed between the parties.
An employer cannot require an employee to work a KIT day during maternity leave and neither does an employee have the right to work KIT days unless the employer agrees.  An employee is entitled to turn down an offer to work on a KIT day without suffering any consequences.
KIT days may not be taken during the two-week compulsory maternity leave following childbirth.
Returning to Work after Maternity Leave
No further notification is required for employees intending to return to work at the end of AML.
If an employee wishes to return to work before the end of her statutory maternity leave, she must give her employer at least 8 weeks' notice of her date of return.  The employer may agree to her returning on shorter notice.
An employee who does not wish to return to work only has to give her contractual notice that she is leaving her job.
Upon returning to work after OML, an employee is entitled to return to the same job in which she was employed before her absence.
A woman returning from AML is entitled to return to the job in which she was employed or, if this is not reasonably practicable, to another job which is both suitable and appropriate for her to do in the circumstances.  The job must be on terms and conditions which are not less favourable than those which had been applicable to her prior to maternity leave.  In both cases, she is entitled to return to her seniority, pension rights and other such rights as though she had not been absent.

Protection from Dismissal and Detriment
If an employee is treated unfavourably during the protected period because of a pregnancy-related illness, this will constitute unlawful pregnancy and maternity discrimination.  Sick pay must not be less than sick pay given to non-pregnant employees.
Dismissal for any reason connected to pregnancy would automatically be treated as unfair and any other detriment will likewise be discriminatory and unlawful.  The employee can then make a complaint to the Employment Tribunal.
An employee will not be treated as unfairly dismissed if it can be proved that:
There was a redundancy situation and there was no suitable alternative employment;
OR
That it was not reasonably practicable for her to be taken back in her original or similar job and that an associated employer had offered her suitable alternative employment which she had accepted or unreasonably refused.
Redundancy
Where a woman becomes redundant whilst on maternity leave, she is entitled to be offered any suitable available vacancy that exists, before she is dismissed.  Any new contract of employment must be:
Suitable, in respect of work to be done, and appropriate for her to do in the circumstances; and
Not substantially less favourable to her than the old contract, in respect of the capacity and place in which she was employed and as to the other terms and conditions of her employment.
A woman who is made redundant during OML or AML is entitled to redundancy pay as if she were not on maternity leave.
Health and Safety
There are special duties that apply in respect of new or expectant mothers in the workplace.  Failure to fulfil those duties may allow an employee to make a number of different Employment Tribunal claims against the employer.
In summary, the law requires employers:
To assess the workplace risks posed on new or expectant mothers or their babies;
To alter the employee's working conditions or hours of work to avoid any significant risk;
Where it is not suitable to alter working conditions or hours, to offer suitable alternative work on terms that are not substantially less favourable;
Where suitable alternative work is not available, or the employee reasonably refuses it, to suspend the employee on full pay.
N.B THE CONTENTS OF THIS GUIDE ARE INTENDED FOR GUIDANCE FOR READERS.  IT CAN BE NO SUBSTITUTE FOR CONSIDERED ADVICE ON SPECIFIC PROBLEMS.  CONSEQUENTLY, WE CANNOT ACCEPT RESPONSIBILITY FOR THIS INFORMATION, ERRORS, OR MATTERS AFFECTED BY SUBSEQUENT LEGISLATION.
Join our newsletter for free law updates and guides