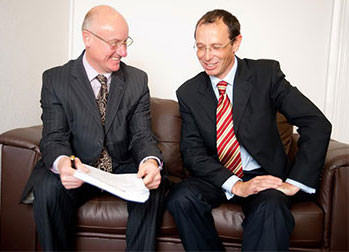 DC Employment Solicitors
DC Employment Solicitors based in Southampton, Hampshire specialise in employment law for both employers and employees.
Our team of highly qualified, professional and friendly employment lawyers are dedicated to finding unique solutions to your workplace challenges.
We don't just "do" employment work, we specialise in it!
Recognised by the Legal 500 as a 'Top Tier' employment law firm in the region, we provide high-level expert advice and representation by specialist employment law solicitors, who combine a great many years of experience in dedicated employment law practice.
Our Services
Our partners, Laurence Dunn, Daryl Cowan and Darren Tibble and their team offer a bespoke service to both commercial and private clients, providing tailor-made solutions to workplace issues.
We are committed to providing a consistently high quality service to all our clients.  We are dedicated to establishing a climate where our practice continually meets, if not exceeds, client expectations and needs.
Whether you are an employer or an employee based in Southampton, Winchester, London or anywhere in England we are eager to assist you.  We support a wide selection of clients including AIM listed companies, SME's, charities and local authorities.
We offer immediate telephone advice and 'live chat' for instant workplace problems, employment documentation reviews, negotiations and mediation with employers, to be represented in the Employment Tribunal and courts.  We advise on and deal with all aspects of employment law and specialise in management and director level disputes.
DC Employment Solicitors in Southampton, Hampshire pride ourselves on getting to know how organisations operate and in cultivating strong relationships, so as to enable us to provide a pragmatic, realistic and cost-effective approach to legal issues.  We never say "you can't do that".  Instead, we discuss the options available to clients, together with the associated risk, so that they can make informed decisions guided by our expertise.
Given the fast-moving and often urgent nature of employment law matters, we recognise that a quick response is often essential.  Every member of our team understands the importance of this and it is our specific policy to have quick response and turnaround times.
Human Resource Advice
Our highly skilled Human Resources (HR) advisor, Janet Bell, is available to assist clients and is especially helpful when independent HR assistance is required.  Janet is particularly experienced where there are opportunities for resolving workplace disputes using mediation or in sensitive and tricky workplace issues, such as bullying and harassment allegations.
Mental Health in the Workplace
We recognise the issues concerning mental health in the workplace.  There is a serious cost – both to employers and employees in terms of health, lost revenue and disruption.  We decided that we would lead the way in providing a solution that meets the complex needs of both employers and employees, by developing strategies and resources to enable businesses to minimise the impact of mental ill-health on the business and to help rehabilitate staff to their previous levels of productivity.
We believe we have taken a unique approach by putting together a team of professionals who can act to limit the development of mental ill-health and its costs to the business.  The team includes the firm's solicitors, who are very experienced in advising on managing workplace mental health issues, together with HR, workplace counselling, consultant occupational health and consultant psychiatric support.
The team provides a bespoke approach which can involve the appropriate blend of legal advice, occupational health assessment and support, workplace mediation, individual or joint counselling sessions and (if required) consultant psychiatric advice, to help rehabilitate employees with mental ill-health issues.  This typically involves providing early support and access to professional help, with the aim of getting them back to work with the appropriate tools to help them feel comfortable in the workplace; reach the required level of performance for their role; and cope in situations of conflict/ personality clash.
The DC Promise
Our aim is to provide you with the very best legal service available and to help you through what can often be a stressful process.  We understand that time frames can be tight when it comes to employment issues, which is why we pride ourselves on responding quickly and working with you to resolve your issues in the shortest time possible.
We take building close relationships with our clients very seriously.  Keeping you informed of the progress is crucial, so you will never have to chase us for information.  Our friendly team are always happy to help, offering advice and guidance wherever possible.
As a small (but expanding) law firm we are able to offer a personal service at very competitive rates, with complete transparency about our fees.
Whilst we specialise in employment law, our experience over the years means that we have cultivated many contacts and links amongst specialists in other areas of the law whom we feel comfortable recommending to clients, depending on their specific needs.  We are also now able to provide high level commercial law advice  to our clients.
We work with you as part of your team – we're on your side.