Family Rights
Are you expecting a child and want to know how the law can help you balance your family and working life?  Do you need time off to arrange care for your poorly child?  How does the law assist you?
It is important for you to be aware of your legal rights in this area and what you should do if your employer contravenes these rights
By way of overview, employees are entitled to:
Maternity Leave and Pay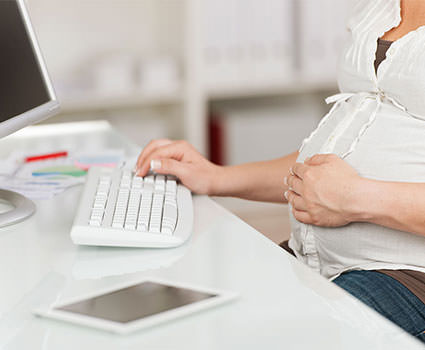 Pregnant employees, regardless of length of service, are entitled to take up to 52 weeks of statutory maternity leave.  This is made up of 26 weeks of ordinary maternity leave (OML) and 26 weeks of additional maternity leave (AML).
Your contract of employment continues through both OML and AML and you are entitled to your usual terms and conditions of employment, except for the terms as to remuneration.
If you return to work before the end of OML, you are entitled to return to the same job on the same terms and conditions.
If you take any period of AML, you are also generally entitled to return to the same job, unless it is not "reasonably practicable" for your employer to allow you to do so, in which case you are entitled to return to a suitable and appropriate alternative job, on no less favourable terms that your old job.
You will be entitled to 39 weeks of Statutory Maternity Pay (SMP) if you have been employed by your employer for at least 26 weeks by the 15th week before your baby is due.  The rate of SMP is 90% of your usual pay for the first 6 weeks, followed by 33 weeks at the prescribed rate set by the government (or 90% of pay if lower).
Paternity Leave and Pay
Eligible employees are entitled to take either 1 or 2 consecutive weeks' ordinary paternity leave (OPL) within 56 days of the birth or adoption of their baby.
If the mother returns to work without using her full maternity leave entitlement, you may also be entitled to take a further 26 weeks' additional paternity leave (APL).
APL is now abolished in respect of babies due on or after 5th April 2015 and is being replaced by the new Shared Parental Leave regime – see below.

Shared Parental Leave (SPL)
The new Shared Parental Leave regime applies to babies due on or after 5th April 2015, allowing new parents much more flexibility to share statutory maternity leave and pay entitlements.
It is a complex system, due to the complicated eligibility requirements and notification procedures that you are required to comply with.  You may find it helpful to read the good practice guide published by ACAS.  Of course, we are always happy to advise you, so if your employer is being obstructive or resistant to you taking SPL, please contact a member of our team.
Flexible Working Requests
Do you need to change your hours of work, perhaps by going part-time or do you want to make a change to your place of work, perhaps to facilitate home-working?
If you have at least 26 weeks' continuous employment, you can make a request for flexible working under the statutory scheme for any reason.
The statutory scheme is supported by two ACAS documents: (1) the Statutory Code of Practice, Handling in a reasonable manner requests to work flexibly (the ACAS Code); and (2) The right to request flexible working: an ACAS guide (the ACAS Guide).
The statutory scheme requires your employer to consider your flexible working request in a certain way and your employer can only refuse your request for one of eight permitted grounds, including:
The burden of additional costs;
An inability to reorganise work amongst existing staff;
Inability to recruit additional staff; and
The employer believes the change will have a detrimental impact on quality.
Tribunals must take into account the ACAS Code when deciding complaints brought regarding the statutory scheme.  If you think your employer is not adhering to the ACAS Code then please contact a member of our team.

Parental Leave
Eligible employees are entitled to take up to 18 weeks of unpaid leave to care for a child under the age of 18, for whom they have parental responsibility.
Time Off For Dependents
You are entitled to a reasonable amount of unpaid leave to deal with certain unexpected issues involving your dependents, i.e. your spouse, child, parent or other person living with you.
Get In Touch With Us
Balancing your family life with your working life is difficult, but the law is there to help you.  If you think that your employer is preventing you from enjoying your legal rights, then please contact a member of our team.