Employment Contracts / Policies / Staff Handbooks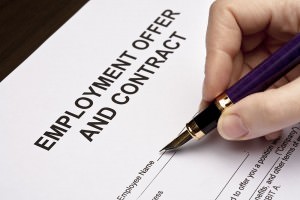 The key documents which govern the relationship between employer and employee are the Contract of Employment and Staff Handbook.  It is important that employers ensure that these documents are well-drafted and up-to-date.  The requirement to provide written particulars of their employment to employees should be seen as an opportunity for the employer to ensure that both sides understand the working arrangement, and for it to protect itself.
What Are You Required To Issue To Your Employees?
Employers are obliged by law to provide employees (whose employment is to continue for more than one month) with a written statement of certain terms of their employment within two months of them starting employment.
The following information must be provided in a single document (known as "the principal statement" which can be an employment contract):
The names of the employer and employee;
The date the employment starts and the date the employee's period of continuous employment began;
Pay (or method of calculating it) and interval of payment;
The hours of work;
Holiday entitlement and holiday pay;
The employee's job title or a brief description of the work; and
The place of work.
The following information can be provided within the principal statement or in supplementary statements or reasonably accessible documents (like a Staff Handbook):
Terms relating to absence due to incapacity and sick pay;
Notice periods for termination by either side;
Information about disciplinary and grievance procedures; and
Terms as to pensions and pension schemes.
Penalty: if an employer fails to provide this information, or provides an inaccurate or incomplete statement, an employee may make a complaint to an employment tribunal.  An employment tribunal can make a declaration either confirming the particulars as they stand or amending them or substituting others as it thinks appropriate.  In addition, where the employee is also successful in bringing a substantive claim (such as unfair dismissal) the tribunal may award compensation of 2 or 4 weeks' pay.

Contract of Employment
Beyond the statutory requirements, the employer can utilise a written contract of employment to provide far more detailed terms and conditions governing the employment relationship.
The advantage of a contact of employment is that it provides a degree of certainty regarding the relationship between employer and employee.  That is not to say that the terms and conditions cannot be varied by oral agreement between the parties or by custom and practice.  That said, a Tribunal will always use the written terms as a starting point and it would require compelling evidence for a Tribunal to conclude that the written terms and conditions have been varied.
The contract of employment can contain clauses relating to:
The protection of information which is confidential to the employer;
The property of the employer;
Post-termination restrictions designed to protect the employer's business after the employee leaves; and
Intellectual property.
Staff Handbook
We also recommend that all employers have a Staff Handbook which details their business' policies and procedures.
We can produce a Staff Handbook bespoke for each employer's requirements.  We have around 40 policies to choose from but recommend the following key policies and procedures:
Disciplinary & grievance (see our guide to Disciplinary & Grievance Issues);
Holidays;
Sickness Absence;
Capability;
Equal Opportunities;
Anti-Harassment and Bullying;
Family friendly policies, including maternity, paternity and shared parental leave (see our guide to Family Friendly Rights); 
Whistleblowing (see our guide to Whistleblowing);
Health and safety;
Data Protection;
Bribery;
Workplace Rules;
IT and communications systems; and
Social media.
Generally we do not recommend that the Staff Handbook is stipulated as having contractual effect.  The reason for this is that if an employer deviates from their policies or procedures (whilst this may have implications for the employer) an employee will not have a claim of breach of contract.
Also, employment law is a dynamic area of law and businesses often evolve, necessitating employers to develop and amend their policies and procedures.  If the Staff Handbook has contractual effect then an employer would need to obtain employees' written consent to any changes.  Non-contractual policies and procedures are far easier to amend, although employers should make sure that they draw employees' attention to any changes.
How Can We Help You?
It is very important that your business' contracts of employment and Staff Handbooks are well drafted and legally up-to-date.  These documents are pivotal to your relationship with your employees and so it is crucial to get them right.
If you need assistance with the drafting or reviewing of a contact of employment or Staff Handbook, then please contact a member of our team.