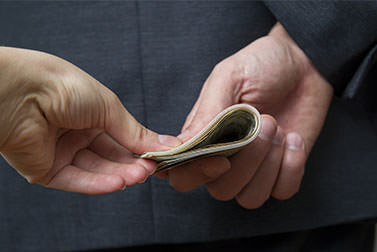 The New Bribery Act 2010
The Bribery Act is of huge importance to businesses.  It impacts on the way in which you conduct business both home and abroad.
The definition of 'bribery' in this context often surprises employers: it is wide-ranging and may include practices you thought to be commonplace and normal practice.  It's important to understand the Act's requirements because the penalties can be severe.  We have set out a below a guide to the key areas and have produced a comprehensive and essential policy to assist employers.
Summary
The Bribery Act 2010 came into force on 1st July 2011, creating new offences under which individuals and businesses will be guilty of offences.
The Act creates four offences:
bribing another person;
being bribed;
bribing a foreign official; and
a commercial organisation failing to prevent bribery.
Individuals may be charged with the first 3 offences.
A business may be charged with the 4th offence if "a person associated with it" bribes another person, with the intention of obtaining or retaining business or a business advantage.  This offence does not create liability for failing to prevent anyone associated with the business from receiving a bribe.
Meaning of "a person associated with" a Business
The Act places responsibility on businesses for the actions not only of its employees, but also any other persons providing services to it (which includes agents and subsidiaries).  Because of this, businesses need to make their bribery policy and procedures clear not only to all employees, but also all other persons associated with it.
"Adequate Procedures" Defence
A business will have a defence to the new offence if it can demonstrate that it had "adequate procedures" in place which were designed to prevent bribery from occurring.  Guidance accompanying the Act sets out six key principles which businesses should follow in formulating "adequate procedures" (see below).
Meaning of 'Bribery'
Bribery is where a financial or other advantage is offered, promised, or given with the intention of inducing a person to perform a relevant function or activity improperly, or to reward them for doing so.
"Improper performance" of a function or activity is where a person fails to act in good faith, impartially, or in accordance with a position of trust where there is an expectation that they will do so.
Hospitality, Promotional and Other Business Expenditure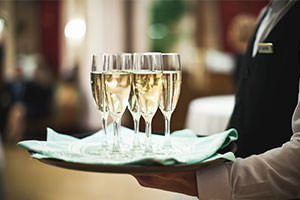 Most businesses spend money on providing hospitality, gifts and other promotional offerings in order to improve public relations, or to simply provide hospitality to other businesses with which it deals.  Businesses need to be wary, however, of providing extravagant or unusual hospitality or gifts that might be construed as given to induce "improper performance" of a function or activity.
The Guidance accompanying the Act states that it is not intended to criminalise bona fide hospitality and promotion, or other business expenditure which seeks to improve the image of a commercial organisation, to better present its products and services, or to establish cordial relations.
Provided the hospitality is reasonable and proportionate, and is not given with the intention of inducing "improper performance" of a function or activity, the hospitality will not be unlawful.
The Act recognises that different business sectors have different customs as to the level of hospitality that they offer and for this reason individual businesses should establish their own policies which set out proper standards of hospitality and other similar expenditure.
Key Principles in Formulating "Adequate Procedures"
The Guidance accompanying the act distinguishes between policies (setting out the business' approach to bribery and corruption) and procedures put in place to mitigate the risk of it occurring.
It is not enough simply to adopt policies, but rather businesses should actively assess the risk of bribery occurring, provide training to staff so that they understand the policy and the risks of bribery occurring, and then monitoring and reviewing the effectiveness of the procedures put in place to combat bribery.
Principle 1: Proportionate Procedures
The procedures should be proportionate to the bribery risks the business faces, having regard to the nature, scale and complexity of its activities.
The starting point in establishing proportionate procedures is for the business to prepare an Anti-Corruption and Bribery Policy.  It should be clear, practical and accessible to all those working for the business.
The procedures to be implemented should be designed to mitigate bribery risks that have been identified and might include financial and commercial controls, such as adequate bookkeeping, auditing and approval of expenditure.
Principle 2: Top Level Commitment
Top level management need to make a statement of their commitment to preventing bribery and ensure that this is clearly communicated to all workers and those with whom they do business.  It should be made clear that there is a zero-tolerance culture regarding bribery and corruption.
Principle 3: Risk Assessment
The business should assess the nature and extent of its exposure to potential external and internal risks of bribery.  The risk assessment should be proportionate to the organisation's size and structure, as well as the nature, scale and location of its activities.
There will be a higher external risk of bribery if the business undertakes trade in countries where there are high levels of corruption and no effective anti-bribery legislation.
There may be a higher internal risk of bribery in businesses which have a bonus culture which rewards excessive risk taking, or where there is a lack of clarity in the policies and procedures relating to hospitality and promotional expenditure.
Principle 4: Due Diligence
Due diligence procedures are systems of checks carried out to prevent persons associated with the business from bribing on their behalf.  The procedures should be proportionate and risk-based, so that the level of due diligence checks carried out with those at higher risk of encountering bribery are much greater than those at lower risk.  For example, less due diligence will be needed when appointing a person to carry out IT support than when appointing someone to act as an intermediary with public officials in a high risk jurisdiction.
The Guidance suggests carrying out checks on the background, expertise and business experience of those associated with the business, to establish whether there is a risk of bribery occurring.
Principle 5: Communication (including training)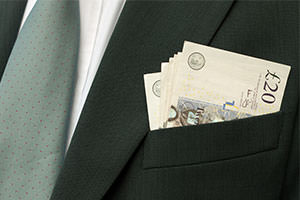 The business should ensure that its bribery prevention policy and procedures are embedded and understood throughout the organisation, both through internal and external communication, and through training.
The degree of communication undertaken should be proportionate to the risks the business faces.  Internal communications should include a clear statement of the policy and procedures adopted by the business in relation to bribery, and how concerns should be raised about them by staff and others.  Training given to employees and others should be regularly monitored and evaluated.
Principle 6: Monitoring and Review
It is recommenced that financial control mechanisms are put in place to monitor the effectiveness of anti-bribery procedures (for example, periodically checking the level of expenditure on hospitality or corporate gifts).  The procedure should also be reviewed periodically, both to monitor the effectiveness of the procedures and to deal with changing bribery risks.
Where necessary, the bribery prevention procedures should be improved or amended.  Businesses should decide who will be responsible for monitoring and reviewing its policy and procedures, and at what intervals.
Conclusion
The stated intention of the Bribery Act is to stamp out bribery and corruption, so as to maintain the principle of free and fair competition.  However, the Guidance recognises that many businesses (especially those conducting business only within the UK) will face a low risk of bribery and that the action the Act requires them to take will be proportionately less than the action required of companies facing higher risks of bribery.
However, the Act requires, as a minimum, that businesses carry out a risk assessment to identify whether there is a risk of bribery and then to produce an appropriate policy and procedures so as to effectively mitigate those risks.
Having formulated a policy and any relevant procedures, the business should communicate them to all employees and others associated with the business, providing training where required, with a commitment to the principles of the policy by senior management.  Appropriate steps should then be taken to monitor the effectiveness of the policy and procedures.
We can supply a draft policy together with instructions on implementation for a modest fee (free to ENHANCE members).
N.B THE CONTENTS OF THIS GUIDE ARE INTENDED FOR GUIDANCE FOR READERS.  IT CAN BE NO SUBSTITUTE FOR CONSIDERED ADVICE ON SPECIFIC PROBLEMS.  CONSEQUENTLY, WE CANNOT ACCEPT RESPONSIBILITY FOR THIS INFORMATION, ERRORS, OR MATTERS AFFECTED BY SUBSEQUENT LEGISLATION.
Join our newsletter for free law updates and guides