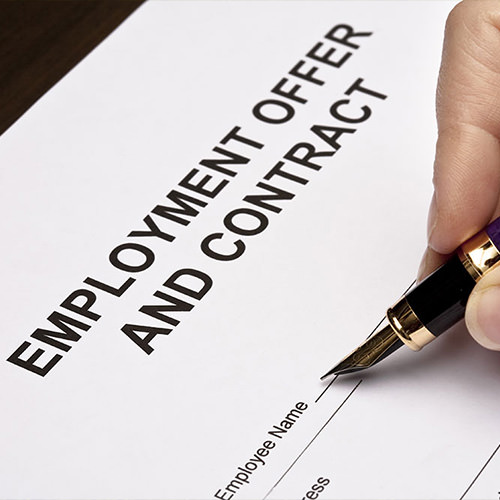 Free Contract of Employment Template
Why Should my Employees have Written Contracts of Employment?
An employer is required by law to provide an employee (who is going to be employed for at least one month) with a written statement of certain terms of their employment within 2 months of them starting work.
If an employer and employee agree nothing further than that which is stated in the written statement, the statement will effectively make up the contract of employment. A contract of employment is a legal agreement between the employer and the employee. It forms the basis of the employment relationship. There is no requirement for a contract of employment to be in writing for it to be legally binding; there could be a binding verbal agreement between the employer and the employee, or a binding agreement can be made as a result of the conduct between the employee and employer i.e. how the employment relationship has worked in practice, in the absence of any written contract.
So, there could be a situation (and often is)  where an employer complies with the law in providing a statement of terms and conditions but in addition there are many other contractual terms agreed either verbally or by custom and practice. This is why it is important for employers to expand upon the basic terms and conditions in order for there to be clarity and so that it protects its business as far as possible contractually. Rather than see it as a burden, employers can make the law work for them by producing a comprehensive contract of employment so as to protect themselves.
A proper written contract of employment can be a real benefit for your business.  A written contract of employment gives the employer and the employee certainty about the important aspects of the employment relationship. In our experience, it is often ambiguity and uncertainty about the employment relationship which can lead to disagreements and disputes, which can often prove to be very expensive and time consuming for the businesses.
What Information am I Legally Obliged to Give to my Employees in Writing?
The following information must be given to every employee in one document, which is often called "the principal statement":
The names of both the employer and employee;
The date the employment starts;
The date that the employee's period of continuous employment began;
The employee's pay (or the method of calculating it)
The interval that the employee is paid (e.g. weekly, monthly);
The hours of work;
Holiday entitlement and holiday pay;
The employee's job title or a brief description of the work; and
The place of work.
In addition, the following information must also be provided to the employee (although it does not need to be in the same document as the principal statement; it could be in supplementary documents like the Staff Handbook):
Any terms relating to absence due to incapacity and sick pay;
The relevant notice periods for both the employer and the employee;
Information about the employer's disciplinary and grievance procedures; and
Any relevant terms about pensions and pension schemes.
Why Should I Bother?
If an employer fails to provide the information listed above, an employee has the right to make a complaint to an employment tribunal.  The tribunal can then make a declaration and confirm what it considers are the correct terms.
In addition, if the employee also has another claim against their employer (such as unfair dismissal or discrimination) then the tribunal also has the power to award the employee between 2-4 weeks' pay if they have not not been given a written statement of particulars.
It's clearly not in the commercial interests of any business to have a tribunal involved in determining the content of an employee's statement of particulars or punishing the business for not having proper documentation, so it's crucial that all businesses make sure that all their employees' statements of particulars are clear and legally compliant.
FREE Template Contract of Employment
DC Employment Solicitors has produced a template contract of employment, which all businesses can adapt to suit their needs.  Our template contract of employment contains all of the information which an employer must provide to an employee within the written statement of particulars.

BUT you can make your contracts of employment work for your business
Whilst our FREE template employment contract includes all of the information a business is required to provide to its employees by law, a more sophisticated contract can prove to be far more useful to your business.
DC Employment Solicitors can work with you to make sure your contracts of employment work for your business by including some additional clauses, such as:
a clause to permit a probationary period during which the employee's suitability for the role can be assessed;
a clause to protect information which is confidential to your business from being disclosed during the employee's employment and after it has come to an end;
a clause to ensure that your employees are obliged to take good care of company property and return it in good condition when they leave;
a clause to ensure that your senior employees are restricted from working for competitors for a period of time after the end of their employment to protect your business relationships; and
a clause to protect any intellectual property developed by an employee, so that it remains the property of your business.
With careful drafting, we can make your contracts of employment work for your business.
To consider a couple of these additional clauses in a bit more detail:
Confidential Information
Does your business have information which gives it a competitive edge compared to the rest of the market?  Or perhaps your contracts with clients or customers are of a sensitive nature and therefore the duty to keep the details confidential need to flow down to your employees who are working on the contract.
It's important that your contracts of employment include well drafted and enforceable confidentiality clauses which remain in force after the end of the employment relationship, in order to protect the information which is most important to the continued success of your business and your competitive advantage.
Restrictive Covenants
Restrictive covenants are often very important in the contracts of employment of senior employees. This is because they will be in possession of confidential information, have good relationships with key customers and considerable influence over your business' workforce.  There is always a risk that once a key employee has left your business that they will use all of this knowledge and customer or staff loyalty for the benefit of a competitor (and to your business' disadvantage).
Post-termination restrictive covenants in a contract of employment can help to limit this damage because it can include a:
Non-solicitation clause – this clause will impose a duty on your former employee not to approach your customers or prospective customers, with a view to doing business with them;
Non-dealing clause – this clause will impose a duty on your former employee not to deal with a customer or client, even when your former employee has not sought out or encouraged an approach from your customer or client;
Non-compete clause – this clause aims to prevent your former employee from working for a competitor or trying to set up a business in competition with you; and
Non-poaching clause– this clause aims to prevent your former employee poaching your staff.
A note of caution, restrictive covenants are tricky and need to be drafted carefully to avoid them being unenforceable because they are in restraint of trade.  These clauses need to be drafted in such a way that they protect a legitimate business interest and they do not go further than is reasonable. For example, they should not last for longer than is reasonable or be too geographically broad than is reasonable.  For more information on restrictive covenants, please follow this link to our information page.
DC Employment Solicitors can work with you to protect you business interests and draft these clauses so that they are enforceable.
A business is often only as good as its people, so one of the most important things for a business to get right is to ensure that the employment relationship is gets off to the right start; and at the centre of this relationship is the contract of employment.
DC Employment Solicitors can help you ensure that the employment relationship gets off to the right start with our FREE Template Contract of Employment.
If you would like DC Employment Solicitor's assistance with a more sophisticated contract, beyond the basic statement of particulars then please contact us.

Staff Handbooks
The "Golden 12" Policies and Procedures
Staff Handbooks are seen by some employers as a volume of pointless policies in a ring binder, collecting dust on a shelf in the office. Some employers also think that implementing a staff handbook is an unnecessary task for a small or medium sized business, as the documentation can often seem too long or unnecessarily complex.
This is a big mistake. Having policies and procedures in place adds a level of protection to your business, as well as providing a useful set of ground rules that make it clear to employees how the business operates and expects staff to behave.
Rather than being a hindrance, a Staff Handbook can add real value to a business as it gives you a platform to communicate some of your most important messages and policies to your employees. And, in a world where it is unfortunately true to say that some employees can take advantage of a an unorganised employer, a Staff Handbook can provide the employer with some useful tools to prevent or limit the risk of an employee trying to do this.
Why Should your Business have a Staff Handbook?
Your Legal Obligation
Firstly, every employer has a legal obligation to give each employee a written statement of their main terms and conditions of employment, if the employee is going to be employed for more than one month. If you would like a copy of our FREE template employment contract, please click below.

The information which has to be provided to an employee includes details of the employer's disciplinary rules and procedure, grievance procedure, as well as information about how the employer deals with sickness absence and pay and pensions.  This information can be contained within the written statement itself. However, some or all of this information is often included within the Staff Handbook.
Preventing Employee Disputes
Many employment disputes can be avoided by setting out what the employer's expectations of the employee are.  A staff handbook can provide a very clear statement of your expectations in relation to:
Uniform and dress code; for example, it might be important to you that your employees who have a customer-facing role are given clear guidance about what is and is not acceptable, or if your employees are required to wear PPE for health and safety reasons;
Absence reporting; for example, when an employee has to call in sick and whom they have to speak to;
Time-keeping; and
Social media usage; for example, it is often important to make it clear to your employees about whether they can use social media at work and if so, what limitations are in place;
An accessible staff handbook can be referred to by an employer when an employee's standard of behaviour or performance falls below the levels, which are clearly set out in the staff handbook.
Avoiding Civil or Criminal Liability
In some areas, whilst a written policy is not strictly required by law, there are very good reasons for having one in place. They can make it clear how staff should behave in certain situations so that the business has control of the situation rather than being vulnerable to staff taking the matter to external agencies. Further, there is often a good legal argument for having one because certain policies can really help an employer to meet its legal obligations. In some cases, the existence of a policy can even help to provide a defence to criminal or civil liability. Here are a few examples of how a staff handbook can help.
A commercial organisation can be found guilty of an offence if one of its employees bribes a person, with an intention to either to obtain or retain a business advantage for the commercial organisation. So, for example, if an employee offered a payment to one of your customers to secure a lucrative contract form them, the organisation could be found guilty of bribery.
However, the organisation may be able to have a defence to this sort of prosecution if it can show that it had measures in place to address and prevent bribery. Having an anti-bribery policy (and a whistleblowing policy) in place will therefore assist an employer in demonstrating that it has addressed the potential issue of bribery and taken steps to prevent it from happening.  An anti-bribery policy could therefore be an extremely useful policy to have in place to demonstrate that the organisation has taken the problem of bribery seriously and done what it reasonably could to prevent it from happening.
An equal opportunities policy demonstrates an employer's commitment to equal opportunities and non-discriminatory procedures and practices.
One of the key pieces of evidence in any discrimination employment tribunal hearing is the equal opportunities policy. Indeed, it is one of the first things a solicitor acting for a member of staff will ask for (and then make a considerable fuss about if there is not one in place). This is because it demonstrates what the employer's attitude is towards avoiding discrimination. The lack of an equal opportunities policy is likely to give an employment tribunal the impression that the employer does not take the issue of discrimination or equal opportunities seriously.
Obviously, a policy alone is not enough; specific measures should be implemented to prevent discriminatory practices within the workplace.  However, a concise statement which lists the characteristics that are protected (for example sex, race, disability etc) and explains the different forms of discrimination and sets out the procedure for a worker to raise a complaint will alert the workforce to the organisation's stance on this important issue.
Finally, the existence of a well drafted equal opportunities policy can also be useful evidence to show that the employer has done all that is reasonably practicable to prevent discrimination from occurring.
Data protection policies are not specifically required under the Data Protection Act, but they can help to ensure compliance with the law.  There is a legal requirement for employers to process data fairly.  A requirement of fair processing is for the data subjects (i.e. employees) to be informed of the purposes for which their data is intended to be processed.  A data protection policy is one way of complying with this legal obligation.
The existence of a whistleblowing policy may offer employers protection beyond merely providing employees with guidance about how to raise a whistleblowing concern or complaint (i.e. encouraging internal disclosure in the first instance).
In cases where an employee has made a "wider disclosure" (in particular to the press) the disclosure is less likely to amount to a protected disclosure (and less likely to be considered acceptable or reasonable behaviour) if the employer has a whistleblowing policy, which provides information about how the employee should go about making a disclosure and the employee has not complied with it.

A Concise Statement of an Employee's Rights and Entitlements
Employees have the benefit of comprehensive rights nowadays, for example in relation to family friendly rights (e.g. maternity, paternity, shared parental leave, the right to request flexible working and dependent leave).   Because of the vast array of rights and the fact that they are often complicated, it is important that the business and its managers are aware of the rights and entitlements that are available.
A Staff Handbook is the perfect place and opportunity for an employer to communicate all of the main rights and benefits to the entire organisation.
Promoting Communication between Employer and Employee and Shaping the Business' Working Culture
The Staff Handbook is the ideal place for an employer to communicate its culture, ethos and values to the entire organisation.  A Staff Handbook will set the tone of the business as it is regularly one of the first things that a new employee will read.
Provides Flexibility for the Employer
Businesses are constantly changing and employment law is dynamic and often undergoes change as a result of new statutes or changes brought about by case law. As such, it is always important that you retain the ability to be able to adapt the policies and procedures in a Staff Handbook to reflect any changes.  Sometimes, we have seen that the content of a Staff Handbook is said to have 'contractual effect' which means that any changes to it, would essentially be treated as a change to the employees' contracts. This can be much harder to do and make amendments much more of a challenge.
We ensure that our Staff Handbooks do not have contractual status. Therefore, our Staff Handbook is a far more flexible document and as such, it is much easier to amend and update as changes to the law or your business happens.
The "Golden 12" Policies and Procedures
There is a huge number of policies and procedures which could, in theory, be implemented into a Staff Handbook.
However, DC Employment Solicitors recommend that as a starting point, all employers should have our "Golden 12" policies in their Staff Handbook:
Disciplinary and Grievance Rules and Procedure [see our Guide to Disciplinary & Grievance Issues];
Holiday Policy;
Sickness Absence Policy ;
Capability Procedure;
Equal Opportunities Policy;
Anti-Harassment and Bullying Policy;
Family friendly policies (maternity, paternity, shared parental leave) [see our Guide to Family Friendly Rights];
Whistleblowing Policy [see our Guide to Whistleblowing];
Health and Safety Policy;
Data Protection Policy;
Anti-Corruption and Bribery Policy; and
IT, Communications and Social Media Policy.
If your Staff Handbook has not been updated recently or you don't have one, DC Employment Solicitors will be happy to help you. For further information on a Staff Handbook health check, please contact us here.