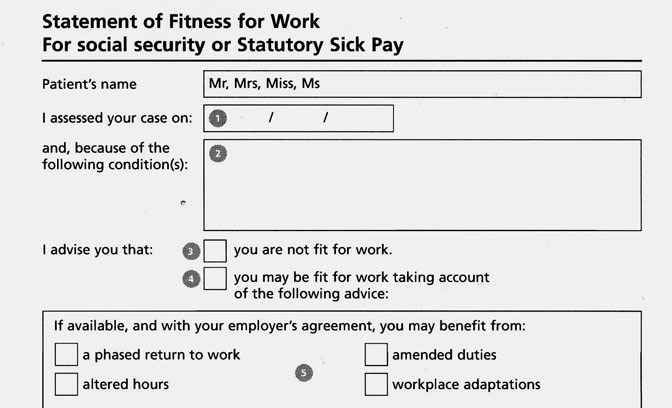 The New Fit Notes
From 6th April 2010, the 'fit note' procedure has stood in place of the well-known doctor's 'sick note'.
The aim is to help get employees back to work earlier following sickness, enabling employers to keep skilled staff and to contribute to the success of the business through reducing sickness absence.  We (and most of our clients) aren't entirely convinced these aims are being met.  Indeed, it's commonplace for employees to be signed off in exactly the same way as they were under the old scheme.
More Detail
The 'Fit Note' includes an option for the doctor to state that an employee is 'not fit for work', but also a new option that an employee 'may be fit for work taking account of the following advice'.
The doctor is then given the opportunity to recommend changes which could be made to an employee's work environment or job role to help facilitate a return to work, subject to the employer's agreement.  These include changes such as altered hours, phased return, amended duties or workplace adaptations.  The doctor is also invited to provide general details of the functional effect of the individual's condition, i.e. how the illness or injury will affect the employee at work.
Employers need to consider the doctor's recommendations, together with the employee's opinion, and its own knowledge of the practicality of any recommendation.  Ostensibly, the new regime is designed to assist both employers and employees, by allowing the employer the opportunity to have an employee return to work sooner than they might otherwise.  There may be other indirect consequences though: while employers are not specifically required to act on the doctor's advice, there could be implications if they fail to give them proper consideration, especially where an employee might come within the definition of 'disabled' under the Equality Act 2010.  Employers will need to be careful not to leave themselves open to accusations of discrimination.
Doctors who do not have occupational health training may not always be in the best position to make an informed assessment of an employee's working capabilities, and in fact many are unwilling to do so for this reason.  In the first instance, they will only know what the employee tells them about what their job involves.  Employers should encourage employees to fully engage with their doctors and it may be necessary for employers (with the employee's permission) to provide doctors with further information and to ask them to clarify or further consider their recommendations.
N.B THE CONTENTS OF THIS GUIDE ARE INTENDED FOR GUIDANCE FOR READERS.  IT CAN BE NO SUBSTITUTE FOR CONSIDERED ADVICE ON SPECIFIC PROBLEMS.  CONSEQUENTLY, WE CANNOT ACCEPT RESPONSIBILITY FOR THIS INFORMATION, ERRORS, OR MATTERS AFFECTED BY SUBSEQUENT LEGISLATION.
Join our newsletter for free law updates and guides