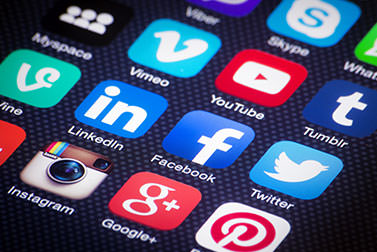 Social Media and The Workplace
The huge increase in the use of social media is creating both opportunities and potential issues in the workplace.  You only have to be a casual reader of our Employment Law Update newsletter to notice that dismissals, and high profile ones at that, are becoming more commonplace and are being regularly litigated.  The common denominator of most reported cases is that judges are looking at whether employers have clear policies to ensure that employees understand the boundaries and the consequences.  We have set out a below a guide to the key areas and have produced a comprehensive and essential policy to assist employers:
What Is It All About?
Employers have taken a broad range of responses to employees' use of social media – some outlawing its use during work time, others encouraging it so as to promote their brand.  Some (e.g. Apple) make it absolutely clear that employees cannot discuss work or the company at all.
All employers need to be prepared to deal with issues arising out of online activity by having clear standards of behaviour communicated to their employees.  We recommend that employers introduce a social media policy and ensure that it is communicated to staff.  We can supply a useful draft for a modest fee (free to Enhance members) together with instructions for implementation.
Advantages of Employees Accessing Social Media
By interesting, innovative and responsible use of social media, employers can raise their profile and get a positive image out into the public domain.  Indeed, many commentators believe that a public profile of this nature is now an essential weapon in the marketing armoury.  Virtual communities and links can be established without the traditional barriers of time and geography impeding connections.  Put simply, at its best, it's another effective way of communicating with clients, potential clients and work referrers.
In addition, it impacts on public perception of businesses.  A willingness to fully engage with social media can be seen as forward thinking and progressive, both in terms of the way clients perceive the business, as well as employment recruitment.

What are the Employment Issues?
Whether employees post comments in their own time, using their own equipment, or use the employer's equipment to post inappropriate content, it can still have an impact on the employer.  The obvious dangers for the employer are not new ones.  An inappropriate comment could at one time be contained and managed discreetly.  However, when the internet is involved the problem can be writ large.
And it's not just the original comment that can be under the spotlight, but also the employer's response.  Consider the situation a politician found himself in (in January 2012) when, unbeknownst to him, an intern accessed his Twitter account while he was out of the office (having not logged off the account).  The intern 'tweeted' a joke about his absence in terms that were not entirely appropriate, given the cross-section of people who were likely to read it.  It initially went to the MP's 65,000 followers, but was re-tweeted to many more as the story broke.  The MP, on returning from the meeting, quickly apologised and said he would "deal with the matter off-line".  This immediately prompted a worldwide "save the intern" campaign.  In the event, she wasn't dismissed but this provides a good example of the sort of issues involved.
Broadly, employers will be concerned about being embarrassed by an employee, having its brand or reputation tarnished and/or being brought into disrepute.  Further, employers will be concerned about breaching client confidentiality or becoming embroiled in legal actions.
Confidential Information
Confidential information disclosed on a blog or social networking website could clearly breach implied or express obligations of confidence and seriously damage an employer's business and reputation.
In addition, there is the question of the ownership of contact lists – 'friends' on Facebook and, more obviously in the business community, contacts on LinkedIn.  How accounts are operated in relation to these networks and the 'ownership' of contacts should be clearly communicated to employees.
Discrimination
Employers can be held vicariously liable for the discriminatory conduct of their employees, so if comments are made about another employee online an employer may be liable, even if the employee is making them out of work hours on his or her own equipment.
By ensuring that appropriate policies are in place clearly indicating to employees that online behaviour, even outside the workplace, should conform to certain standards, an employer will have a defence.  It will need to be able to demonstrate that it took all reasonably practicable steps to prevent the harassment occurring.
Defamation
Employers can also be vicariously liable for comments made by employees that could be slanderous or libellous. For the same reasons as above, having clear policies in place can assist employers greatly.
Working Time
Access to social media and the internet generally can lead to loss of productivity.  Clear rules are required as evidenced by a 2009 Employment Tribunal case in which two employees were found to have been unfairly dismissed for overuse of the internet.  The Tribunal found that the rules about when the internet could be used were unclear.
Disciplinary Action
The employer should have clear standards of performance and behaviour and ensure its employees are aware of its expectations of them in this regard.  With proper policies in place, the employer will be able to instigate disciplinary sanctions provided it follows appropriate procedures.
Where the misconduct takes place on social media outside the workplace, the employer will have to consider its impact on the business (and other employees) and its severity so that any response is appropriate.  Take for example the case of Whitham v Club 24 Ltd, which provides a warning to employers that care must be taken before dismissing an employee.  Mrs Whitham was dismissed after posting some comments on Facebook saying that she felt like she worked in a nursery.  The Employment Tribunal found that Mrs Whitham had been unfairly dismissed (albeit with 20% contributory fault on her part) on the basis that the comments were relatively mild and unlikely to jeopardise the employer's commercial relationship with a client.  In addition she had an exemplary disciplinary record and she had immediately apologised.
In short, while each case will need to be decided on its facts, if clear guidance is given as to its expectations, together with likely sanctions, life will be a lot easier for the employer.
What to Do?
Some employers have imposed an outright ban on any access to social media sites (or even the internet except for work activities), but the problem of out of hours activities remains.  In addition, such a policy is likely to be considered outdated and prove unpopular.
A more effective way for employers to manage these issues is to introduce a social media policy which sets out clear parameters about permitted use.  The policy should include rules, the types of 'offences' that may be committed, sanctions and information about monitoring.
A 'Dummies Guide' to the Type of Social Media Out There

Social Networking Sites
These are websites through which online communities of friends and contacts can be formed.  Facebook is the most common (and popular) example.  Users set up their own webpage containing personal details and then invite other members of the website to become their 'friends'.  Their site may also include a blog (see below).  There are varied restriction settings.  For example, Facebook members may have their site freely available to the public in general, or they may restrict access to their "friends".
Blogs
'Blog' is short for 'web log' – these are websites containing personal opinions which are posted on the internet and available for anyone to access.  The phrase "never has so much been written by so many and read by so few" has been used to describe blogs, but nevertheless they can be an effective marketing tool as well as one that can be read by millions and bring bad publicity if used incorrectly.
Twitter
A social networking site which allows its users to send messages, or "tweets", of up to 140 characters.  Tweets are sent directly to the users 'followers', although in general anyone can read the tweets.
LinkedIn
A social networking site for people interested in developing a network of professional contacts.  Useful for maintaining business contacts and networks, it does raise the problem of ownership of the contact list, particularly where clients become contacts of the user, and this needs to be specifically dealt with in policies.
N.B THE CONTENTS OF THIS GUIDE ARE INTENDED FOR GUIDANCE FOR READERS.  IT CAN BE NO SUBSTITUTE FOR CONSIDERED ADVICE ON SPECIFIC PROBLEMS.  CONSEQUENTLY, WE CANNOT ACCEPT RESPONSIBILITY FOR THIS INFORMATION, ERRORS, OR MATTERS AFFECTED BY SUBSEQUENT LEGISLATION.
Join our newsletter for free law updates and guides