March Newsletter
Welcome
The Sunday Times recently reported on some unintended consequences of the "Me Too" campaign. Following the stream of allegations and convictions concerning discrimination and harassment in the workplace, men are now apparently frightened of being alone with women. Some are arranging after work events that tend to appeal to the male workforce – racing car excursions, extreme skiing and caving being just some on the list (gender stereotyping courtesy of investment bankers – not me). There is some hard fact to support the anecdotal evidence that's surfacing regarding a change in attitude: almost half of male managers interviewed for a recent survey admitted that they are now uncomfortable working alone, mentoring or socialising with female colleagues. Surveys are suggesting that senior business men are 3.5 times less likely to have a work dinner with a junior woman than a junior man, and 5 times less likely to travel with a junior woman on work business. In other words, while protecting themselves, men are removing from junior women a valuable opportunity for networking and mentoring.
It seems there are no easy solutions – exercising some 'common-sense' would be my normal answer but it appears trite in the circumstances where there is fear on both sides (e.g. how many young women would actually now feel comfortable attending a 'work dinner' alone, with a senior male exec? The question wasn't asked in the survey!).
And, I'm so sorry, I'm also contractually obliged to mention that it's Brexit month. Or is it? In the words of one member of the Government: "who the hell knows what's going on". Well, if the Government doesn't know, how the hell should we know? It may all be resolved by the time this Update goes to press so I'll say no more on that other than I'm flying to Crackow the day before Brexit and returning the day after – wish me luck, I fear I may end up one of those lost souls, wandering stateless, condemned to live my life in an airport transit lounge (surviving on Stella Artois and oversized bags of crisps and Toblerone – strange how your dreams as a teenager transform into nightmares as you age). In the meantime, below we have summarised the Brexit situation (in terms of employment law) based on the information we currently have available, together with my own thoughts on problems with some legislation that's emanated from the EU (feel free to disagree).
Join us for our Breakfast Briefing Seminar on 1st May 2019!
On 1st May 2019 we hold our annual Spring Seminar at our usual location, the Ageas Bowl (Hampshire Cricket Ground). It's a terrific venue overlooking the ground (if you haven't been there before, it's the Media Centre where the commentators and reporters sit). 
This Spring we have a special guest speaker – the eminent David Reade QC. David (from Littleton Chambers, London) is a barrister who we work with a great deal. He's a very engaging speaker who has (among numerous high-profile employment cases) acted in a number of 'status cases' – the cases where it is decided whether someone is employed, self-employed or a worker. Notably, he appeared for the former champion cyclist Jess Varnish against UK Sport and British Cycling. He's appeared for British Airways against Unite, British Coal and Sunderland FC. He's described in the legal directories as being "vivacious, bold and brilliant" and "pleasingly straightforward". If that's not enough, he was Chambers and Partners Employment Silk of Year 2015 and the Legal 500 Employment Silk of the Year 2016 and shortlisted for 2017.
We are very grateful to him for agreeing to come and give us all an update and some insights into the knotty and ever-changing law concerning status. We will also be discussing significant implications recent case law has had concerning employee suspension. In, what have been, turbulent times, we will provide and update on recent important law changes.
Dismissing within the first two years (take care not to slip up on a technicality)
A common misconception is that employees with less than 2 years' service do not have the right to make a claim for ordinary unfair dismissal and therefore that the only potential claims from such employees are discrimination claims.
There are in fact quite a few bear traps employers should avoid as there are circumstances in which a dismissal can be deemed to be automatically unfair, regardless of the employee's length of service. One of these is where the employee is dismissed for asserting infringement of a statutory right.  Statutory rights include…
Click here for the full article
Kirsty Alleyne, Senior Solicitor 
Suspending an employee requires "reasonable and proper cause"
The recent Court of Appeal decision in London Borough of Lambeth v Agoreyo has confirmed that suspending an employee can be a breach of contract (i.e. a breach of the implied duty of trust and confidence), thereby entitling the employee to resign and claim constructive unfair dismissal. However, each case will turn on its facts. The Court of Appeal held that the test will be whether the employer had "reasonable and proper cause" to suspend the employee, not whether it was "necessary" to suspend.
In this case, a primary school teacher was suspended after being accused of using excessive force towards two students with special educational needs. The teacher resigned and claimed constructive unfair dismissal, asserting that her resignation was due to a 'kneejerk' reaction by the school and therefore a repudiatory breach of the implied duty of trust and confidence.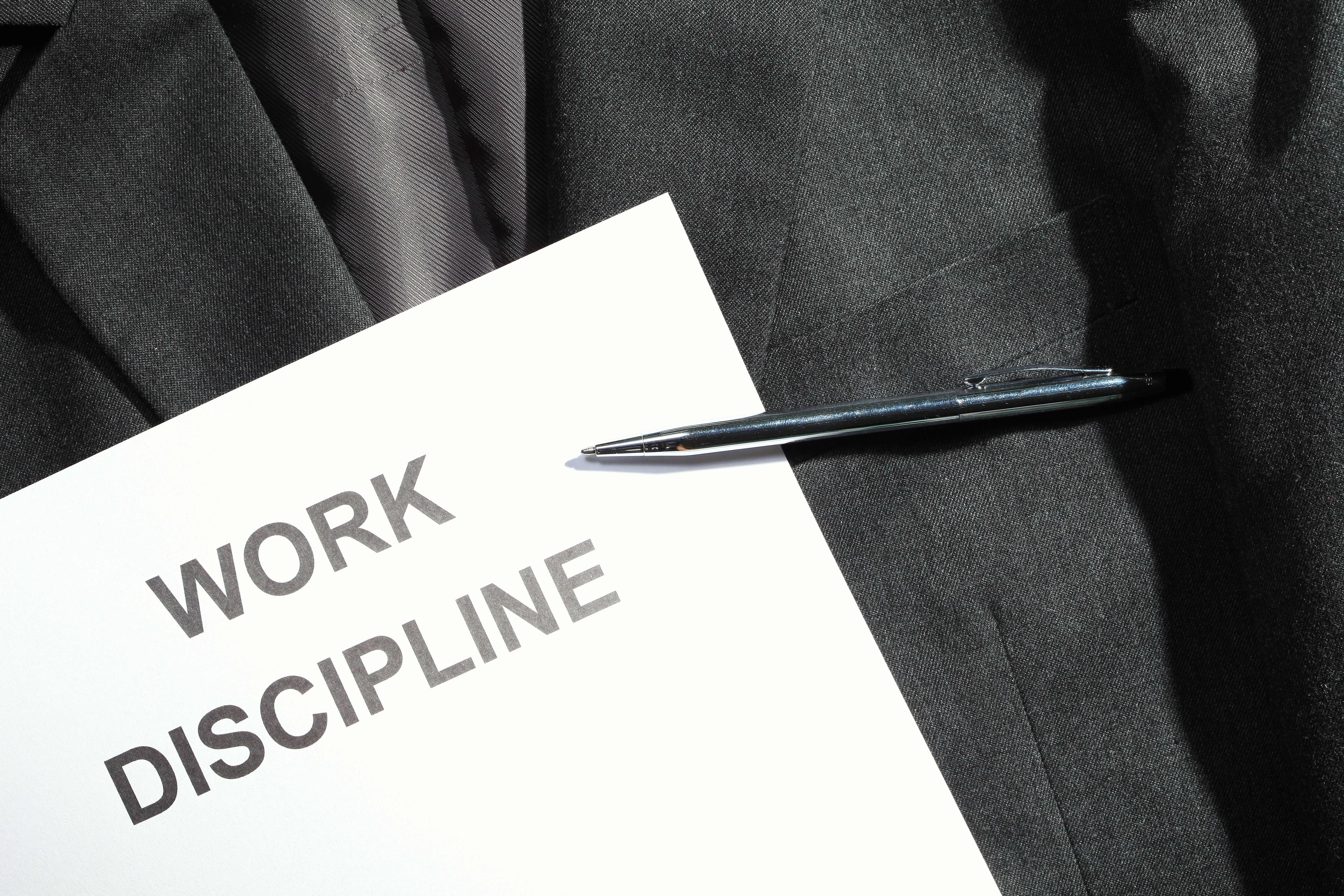 The first court hearing rejected her claim, holding that the school "clearly had reasonable and proper cause to suspend the claimant", given its duty to protect its students whilst a full investigation into the allegations against her was carried out.
She appealed to the High Court, which found that it had not been "necessary" to suspend the claimant and therefore that her suspension was a breach of trust and confidence. The school appealed to the Court of Appeal.
The Court of Appeal allowed the school's appeal, overturning the High Court's decision and agreeing with the County Court that the only test is whether there was "reasonable and proper cause" to suspend the employee. The teacher therefore failed with her claim that her suspension was a breach of contract.
Employers should therefore be aware that the decision to suspend an employee should not be taken lightly and that the facts of the matter should show that there is "reasonable and proper cause" to justify the suspension. It is a good idea for employers to be able to show that they have followed a thorough process (possibly including the taking of legal advice) before concluding that it is reasonable and proper to suspend.
Kirsty Alleyne, Senior Solicitor
April 2019 – What's changing?
The maximum compensatory award that can be awarded by the Employment Tribunal for unfair dismissal will increase from £83,682 to £86,444
The maximum penalty for an "aggravated" breach of employment law will increase from £5,000 to £20,000
Maximum statutory redundancy will rise to £15,750
The cap on one weeks' pay will rise to £525 from £508
The National Living Wage and National Minimum Wage rates will increase as follows: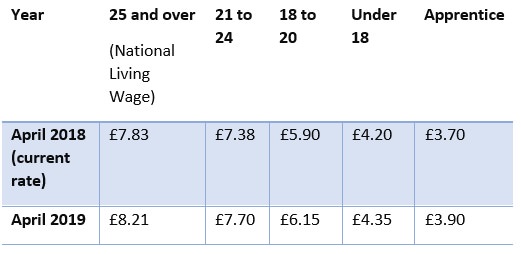 Statutory maternity/paternity/adoption/shared parental pay and maternity allowance will be increased from £145.18 to £148.68 a week
Statutory sick pay will increase from £92.05 to £94.25 per week
Where wages vary according to time worked, all payslips must state the number of hours being paid
All workers (as well as employees) will have the right to a written pay statement and the ability to enforce that right before the Employment Tribunal
Laura Kelleher, Trainee Solicitor 
BREXIT …

 
As you are probably aware, a huge portion of the UK's employment law comes from the EU including discrimination rights, transfer of undertakings information, family leave, working time regulations and duties to agency workers. In the White Paper on the future UK-EU relationship the government proposed maintaining current UK employment laws so that existing workers' rights will be unchanged following exit day (at going to print, 29 March 2019).
It is thought that most employment law will remain the same and the Government may gradually repeal some aspects, or modify some laws to make them more fitting with UK business. There are three key reasons for this approach…
Click here for the full article
And Finally…
The Metro has reported that an Uber driver has taken to giving his passengers a 'menu' from which they can choose the type of taxi ride they want to have. The menu includes 'The Stand Up', 'The Silent Ride', 'The Therapy Ride', and 'The Creepy Ride' and 'The Rude Ride'. The Stand Up ride involves the driver telling 'funny stories about prison' and 'other poor choices he has made', including a suggestion he has a tattoo of an ex-lover's name. The Silent Ride description is completely blank and self-explanatory. The Creepy Ride is just like the silent ride except the driver looks at the customer in the rear-view mirror 'all creepy like'. The Rude Ride, the driver explains, is where 'I be as rude as possible.'
All perfectly normal.
Read more: https://metro.co.uk/2019/02/27/uber-driver-offers-menu-let-customers-choose-sort-trip-8763395/?ito=cbshare